Dyno2 software updates
Before using new software, make backup of /home/pi/.dyno2/ directory.
Stable verison
2021/08/09 11:34:34
Dyno2_rpi_2.7.1
Experimental version
2021/10/13 13:18:12
Dyno2_rpi_2.13.0



Changelog

To update the software on the controllers based on Raspberry Pi Computer, the dyno software file should be downloaded to desktop. Execution permission must be added to the software file, like shown on the example below.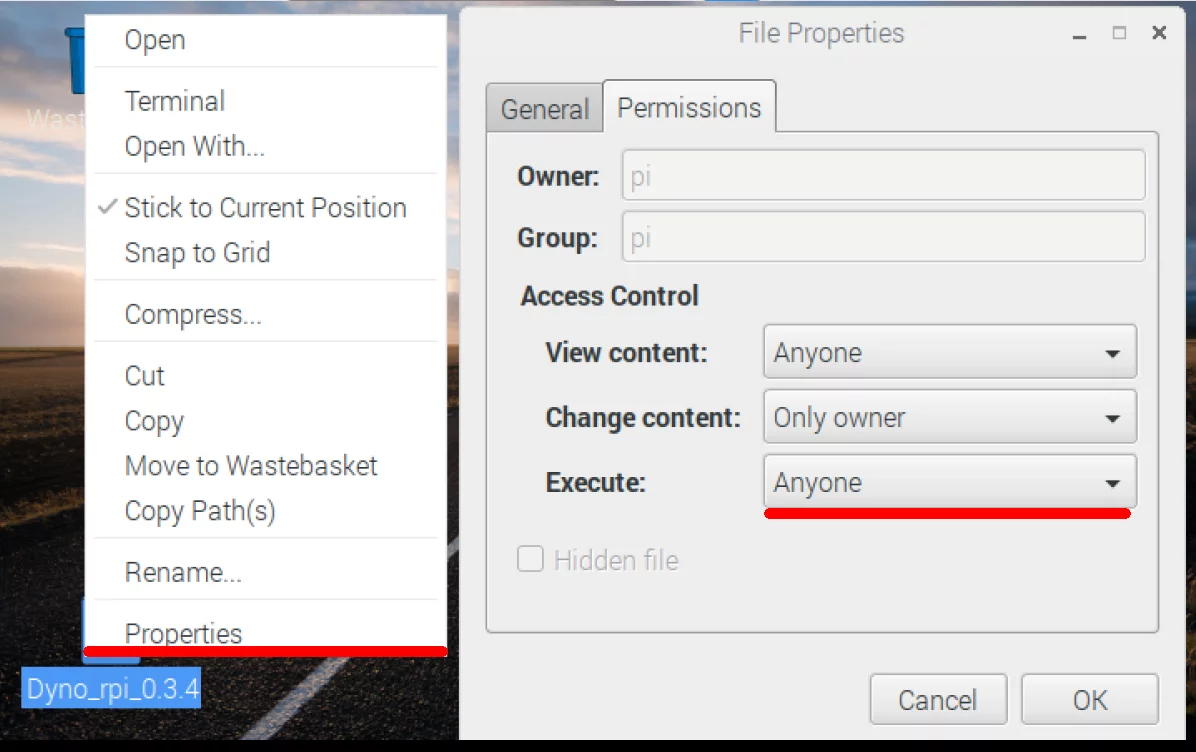 System images
rpi-DC1-2021-09-01-qt-5.12-5-dyno-2.9.1.img.7z
Instructions to update / restore system image:
BACKUP YOUR DATA

Insert pendrive to DC1 controller.
Create backup of /home/pi directory.
Safely remove pendrive to avoid data loss.
Turn off the controller.

WRITE NEW SYSTEM IMAGE

Prepare ESD safe environment to work with opened DC1. Don't wear clothes that generate static electricity. Discharge yourself to something that is grounded i.e. computer case.
Disconnect DC1 power cord.
Disassemble DC1.

In DC1 and DC1E4 you need to unscrew 7x TX10 screws and 2x TX20 screws near power socket.
In DC1L you need to unscrew 4x TX10 screws and 2x TX20 screws near power socket.

Take out micro SD card from DC1, place it in card reader and in your PC.
On your PC download .img.7z system image.
Extract it. If you don't have software supporting 7z format, download 7zip.
Write .img system image to the SD card with Etcher software.
Take care about ESD safety. Put the sd card back into DC1.
Assemble the enclosure. Don't overtighten the screws. Remember that enclosure is plastic.

RESTORE YOUR DATA

Insert pendrive with you data backup to DC1 controller.
Restore /home/pi directory overwriting existing data.
Restart DC1.